Why Groundbirch needs water
The Montney formation consists of a mixture of low permeability sandstone, siltstone and shale lying about 2,500 metres below the surface. Low permeability means it is difficult for the gas to flow through the rock and so we must employ special technology to produce this resource.
When a well is drilled we use water and drilling fluids to lubricate the drill bit and flow drill cuttings to surface. Once a well is drilled, it is completed using a technology called hydraulic fracturing that involves injecting water mixed with sand plus additives down through the well bore and into the formation deep below the Earth's surface.
The pressure created by the water fractures the rocks providing a path for the gas to flow into the wellbore. Sand is used to keep the fractures open so the gas flows more freely.
For Groundbirch, fracturing occurs at depths approximately 8,000 feet or 2,500 metres below the surface – this means there are many layers of rock (about 2.5 km) between where the fracturing occurs and the shallow freshwater aquifers and the surface.
During initial production approximately 20 per cent of water injected comes back to the surface as flowback water. The rest of the water flows back during the long-term production (otherwise known as produced water). The flowback and produced water is collected, stored and reused for other completion operations.
Reducing Fresh Water Use
In September 2012, Shell and the City of Dawson Creek opened the Reclaimed Water Facility which was intended to conserve water by treating the City's waste water for reuse in industry and the community.
This collaboration allowed Shell Groundbirch to virtually eliminate reliance on fresh water sources and created a new non-potable water source and potential revenue for the City.
The Reclaimed Water Facility has supplied reclaimed water (up to 3,400 m3/day) for Shell's Groundbirch development; however, through continued development of the Montney formation, we discovered that it produced significant produced volumes of water along with the gas.
Today, Shell Groundbirch has a comprehensive water management system, which includes storing and recycling our produced water and sharing excess produced water with other industry users.
Through technological advancement, approximately 92% of Groundbirch's water needs for all of our operations, including completions, are now met by recycled produced water, and we supplement with reclaimed water, as needed. Limited amounts of surface water are also used for drilling, hydrotest of pipelines and dust control.
Produced water is stored in water hubs and sent via underground pipeline to pad locations. Water pipelines are pre-built and trenched in with gas lines.
Shell's water pipeline system is expected to eliminate approximately three million kilometres a year in truck trips over the course of full field development, reducing traffic, noise and dust for local landowners.
As part of the Groundbirch water management system, which includes storing, recycling, and sharing our produced water with other industry users, we still have excess water in our system that needs to be managed and disposed of in a responsible way.
Groundwater Protection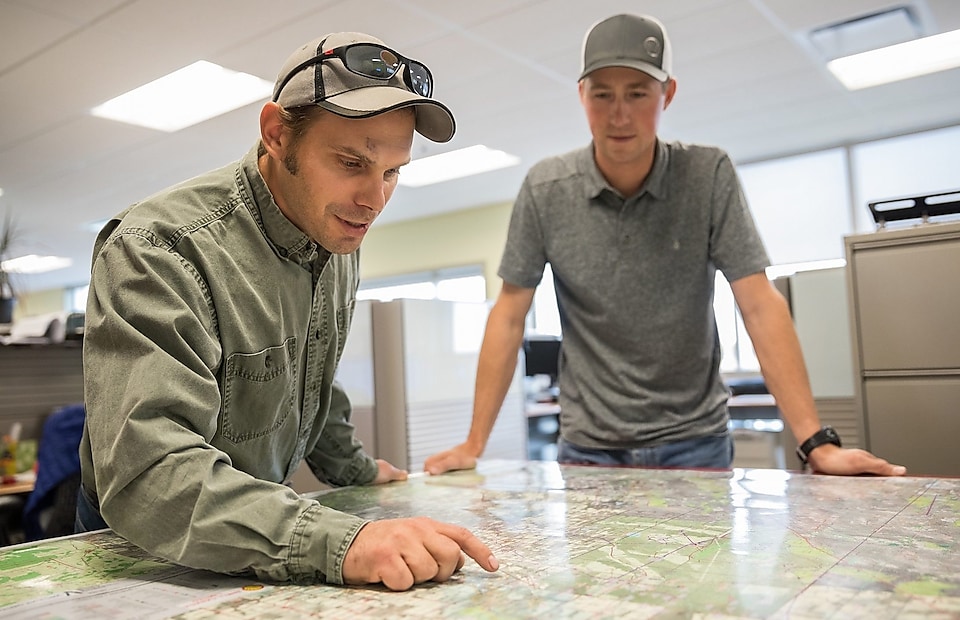 Shell ensures the protection of fresh water sources near our wells in three stages.
First, a corrosion-resistant steel pipe, or casing, is inserted into the shallow well and cemented into place. This creates a barrier that prevents fluids from the well from mixing with the sand and gravel at the surface.
The second stage is the insertion of a second casing, called surface casing, between 500-600 metres into the well. Once cemented into place, this will protect any shallow aquifers used by location landowners. Before drilling resumes, the structural integrity of the cement is confirmed.

Once this is done, the final production casing is lowered into the well, fully isolating the hydrocarbons from their surroundings.
Baseline Testing and Sampling – Landowner Water Wells
Shell has developed and implements its own Groundwater Protection measures intended to validate the effectiveness of casings.
In mid-2011, Shell initiated a program to sample and test active domestic water wells in our lease area. This program includes:
Commitment to offer sampling of all active landowner wells on a five-year basis. 
Sampling of more than 120 water wells and 10 springs by qualified groundwater and drilling consultants to establish a baseline
Re-sampling of approximately 20% of the residential water wells annually.
Summary of basic water well information based on Landowner consent and assistance
To date, the results indicate no significant differences between the baseline events conducted in 2011 and the subsequent sampling events. Shell will continue to monitor water quality and evaluate trends, if present.
We also conduct sampling within 3 km of a well pad prior to completion activities.