Shell's Innovation Partnership with Scuderia Ferrari
Shell's partnership with Scuderia Ferrari has been around since the first ever FIA Formula 1® World Championship series in 1950, making it one of the longest running and most successful collaborations in motorsport history.
Our race fuels and lubricants have powered Scuderia Ferrari to ten FIA Formula One Constructors' titles and 12 Drivers' Championship wins – and counting. Check out some of the most memorable moments and milestones from our incredible partnership.
1920s and 1930s
The beginning of a special relationship
In 1924, Shell provides the fuel and lubricants for a promising young Alfa Corse driver by the name of Enzo Ferrari. Five years later, when Enzo steps away from full-time competition to set up Alfa Romeo's Grand Prix racing team, he is determined for Shell to come with him. Powered by Shell Dynamin fuel and Shell motor oils, the team goes on to win every major event in Europe and Africa as well as the Vanderbilt Cup in America.
1947
A prancing horse and an inaugural victory
The first car to carry the Ferrari name, the 125 S, emerges from the factory in Maranello with Shell fuels and lubricants inside. The car also features the now legendary prancing horse emblem, adopted by Enzo in tribute to family friend and highly decorated Italian World War I pilot, Francesco Baracca, who had it painted on the fuselage of his aircraft. Two years later, in 1949, Scuderia Ferrari wins Le Mans 24H for the first time as a manufacturer. 
1951
A first Formula 1® victory 
The team only has a year to wait before claiming a first Formula 1® victory. With a new 4.5 litre engine and Shell race fuel, Scuderia Ferrari charges to the chequered flag in the British Grand Prix at Silverstone. At the wheel is Argentine driver, José Froilan Gonzalez, whose reward for victory is a personal audience with the Queen.
1952
World champions
Alberto Ascari becomes the first driver to win a Formula 1® World Championship with Scuderia Ferrari. Then, in 1953, the Shell-powered 500 F2 once again leads the pack, with Ascari's five wins bringing home the Drivers' Championship for a second time in a row. These two seasons also see Scuderia Ferrari complete a winning streak of 14 consecutive victories over two seasons – a Formula 1® record that still stands today.
1964
Surtees completes the set
Scuderia Ferrari driver and ex-motorcycle racer, John Surtees, wins the Formula 1® World Championship and becomes the first person to achieve world titles on both two and four wheels. Scuderia Ferrari also wins the Constructors' Championship.
1996
Back on track
After a temporary hiatus in the 1970s and 80s, Shell and Scuderia Ferrari resume our Technical Partnership – with even better results! Powered by lighter, highly combustible fuels and with the great Michael Schumacher in the driver's seat, unparalleled success is just around the corner. Thanks to our innovations and learnings from working with Scuderia Ferrari we were able to launch Shell V-Power in 1998. Our premium gasoline was, and still is, available to customers worldwide and which today contains 99% of the same type of compounds as the race fuel used by Scuderia Ferrari on the track.
2000
Champions again
A defining moment in the Technical Partnership between Shell and Scuderia Ferrari, as Michael Schumacher becomes the team's first World Drivers' Champion for 21 years. Michael clinches the title with a race to spare at the Japanese Grand Prix, with Scuderia Ferrari also successfully defending their Constructors' Championship.
2004
Records tumble
The peerless Michael Schumacher and his Scuderia Ferrari once again dominate the Drivers' Championship, claiming the title for a fifth consecutive year. His incredible achievement is outdone only by the team itself as it takes its sixth straight Constructors' Championship.
2007
Kimi wins a dramatic finish 
In one of the most exciting Formula 1® finishes of all time, Kimi Räikkönen wins the Drivers' Championship by one point at the last Grand Prix of the season. The third Finnish driver to take the title, Kimi powers to the chequered flag despite having started the race in third place in the overall Formula 1® World Drivers' standings. In doing so, he matches a feat previously achieved by Giuseppe Farina in 1950 and Alain Prost in 1986.
2012
500 not out
Shell's Technical Partnership with Scuderia Ferrari reaches a new milestone at the Singapore Grand Prix as we celebrate our 500th Formula 1® race together. It is an unprecedented achievement, marked with a specially designed 'Shell 500 Races' logo on the rear wing of Fernando Alonso's and Felipe Massa's F2012 cars.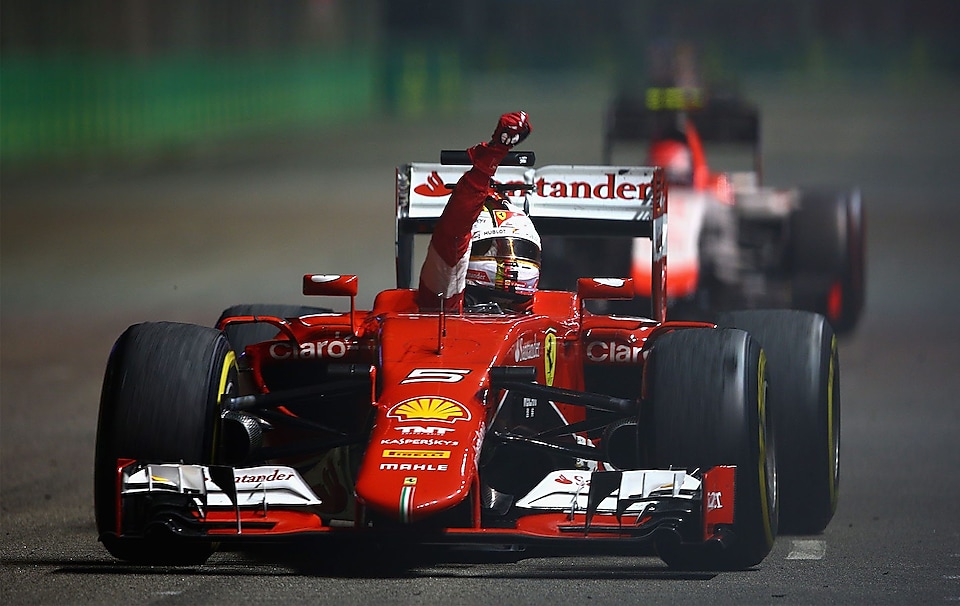 2015
From Technical to Innovation
The relationship between Shell and Scuderia Ferrari becomes closer than ever as we extend it from Technical Partnership to Innovation Partnership. This sees Shell agree to power Scuderia Ferrari's teams in Formula 1® and beyond, and Scuderia Ferrari support the global Shell Eco-marathon programme. The extension of our partnership also recognises the unprecedented 25% of total performance gain delivered by Shell fuels and lubricants for the Scuderia Ferrari's power unit.
2017
Major gains 
It is revealed that Shell V-Power race fuel and Shell Helix Ultra race lubricant are responsible for over 20% of the total efficiency gain of Scuderia Ferrari's power unit between the end if the 2014 season and 2017, allowing the cars to go over half a second a lap faster with the same amount of fuel.
2018
Increasing Performance Once Again
A year later, 21% of Scuderia Ferrari 2018 Power Unit's lap time improvement was delivered by Shell V-Power and Shell Helix Ultra. Both of these incredible stats are testament to the 21,000 man-hours and 50 technical staff we invest in the Innovation Partnership every year to give Scuderia Ferrari a competitive edge on the track.
More in Motorists
Shell's Track Lab team is trackside for every race, sampling and testing the fuels and lubricants as Shell helps power the Ferrari team to success.
Learn how we use Scuderia Ferrari's Formula 1™ cars as the ultimate test bed to develop products that boost your engine's performance.