Shell receives Aboriginal Relations Award
Jan. 18, 2016
Recognized as a good business partner and great place to work for Aboriginal peoples.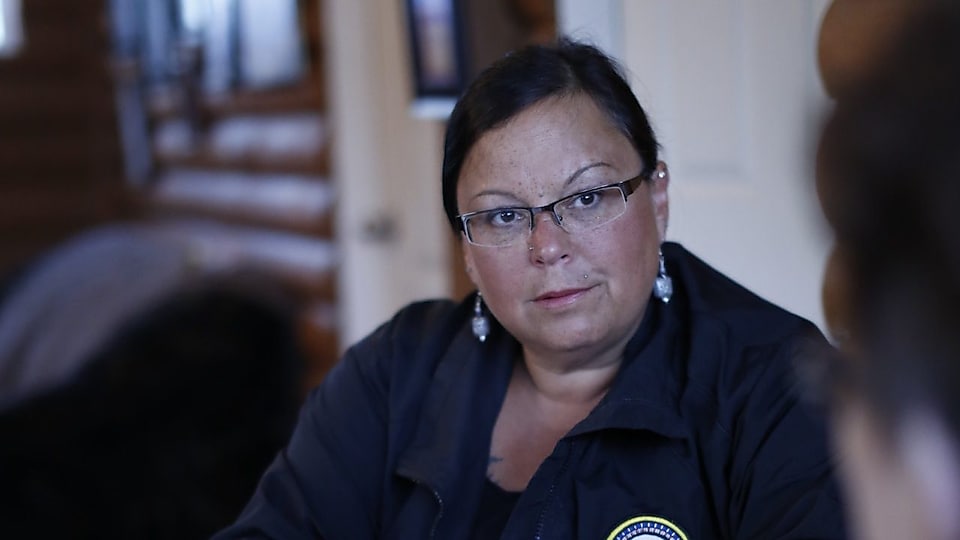 Roxanne, an External Relations Advisor working with Indigenous communities
Roxanne Hodgson has always felt proud working for Shell. But representing the company at the Canadian Council for Aboriginal Business (CCAB) gala, her pride took on a brighter glow – in fact, you might say it glittered like gold.
At a gala held in Vancouver, BC on September 24, 2015, Shell received gold certification for Progressive Aboriginal Relations (PAR), a CCAB-sponsored program that acknowledges leadership and corporate performance in Aboriginal relations.
The certification is recognized as an indication of a good business partner, a great place to work and the company's commitment to prosperity in Aboriginal communities. The designation is supported by an independent, third party verification of company reports and the final certification level is determined by a jury comprised of Aboriginal business people. Shell is the only integrated oil and gas producer operating across Canada that is recognized at the gold level.
Roxanne, an External Relations Advisor working with Indigenous communities, led the cross-functional team who undertook the intensive, months-long application process. She said the gold standing is an affirmation of what she sees in practice through work each day.
"I know how much effort and resource we invest as an organization to do the right thing and to partner effectively with Aboriginal communities and I see examples every day of people making a difference through their work," she said.
"But to have it acknowledged in this way by well-respected members of the Aboriginal community in Canada – that's huge."
"There are multiple things Shell is doing to be a better partner, employer and neighbour to Aboriginal peoples," said Kerry Margetts, General Manager, Contracting & Procurement - Heavy Oil & Uncoventionals. "This takes significant effort and collaboration but the results are excellent business partners who are safe and provide cost-effective solutions."
Since 2005, Shell has spent nearly $2B with Aboriginal-owned contracting companies through its oil sands operations. Many relationship-holders also spend time informally mentoring Aboriginal-owned businesses working to improve safety or be more competitive in bidding processes for local contracts. Even as operating costs and contracting spend overall are being reduced, Shell is maintaining, if not increasing the share of its overall spend with Aboriginal contractors.
Shell also has three dedicated diversity focal recruiters. These roles are unique in the industry and focused mainly on engaging internally and externally to ensure Aboriginal peoples know of and can compete effectively for roles within Shell.
Shell is the only company operating in the oil sands to maintain satellite office locations in both the communities of Fort McKay and Fort Chipewyan in Alberta as a way of being accessible and connected to the community.
Programs like Banff Leadership Centre and Indspire, which Shell has supported for more than 26 years, facilitate education, training and leadership development opportunities for Aboriginal people. Shell is the founding sponsor of Indspire's "Industry in the Classroom – Careers in Oil & Gas Module".
Shell's internal Aboriginal Employee Network Canada offers resources for all employees who want to learn more, volunteer to gain experience, or are seeking connection to the wider Aboriginal community within Shell.
Hodgson says the PAR verification report highlighted many areas where Shell has advanced since it achieved a silver rating in 2012, but there are still opportunities to improve further.
"In some areas we do things really well and much of it has to do with the fact that our processes and relationships have matured with years of effort," she says. "In some parts of our business where these are just now being established, it will take some time to see similar outcomes, but we need to keep working at it."
The important thing to remember, Hodgson says, is that no one needs to reinvent the wheel as there are many good practices and experiences within Shell to draw from.
"One of the most positive developments we're seeing is leaders within Shell reaching out for advice and coaching from their peers in other businesses. It's inspiring to see our leaders championing this important focus for Shell."
More in Media
News and Media Releases - All media releases published by Royal Dutch Shell plc this year, and archived releases from the past six years.

Archived Feature Articles
You may also like
The 2015 Annual Report and Form 20-F, the 2015 Sustainability Report and the Investors' Handbook are available on our global website for online reading and PDF downloads.