Shell Canada Signs Fleet Card Agreement with Purolator Inc.
Nov. 14, 2016
Shell Fleet NavigatorTM Card to provide control, savings and convenience for fleet of 3,000 drivers.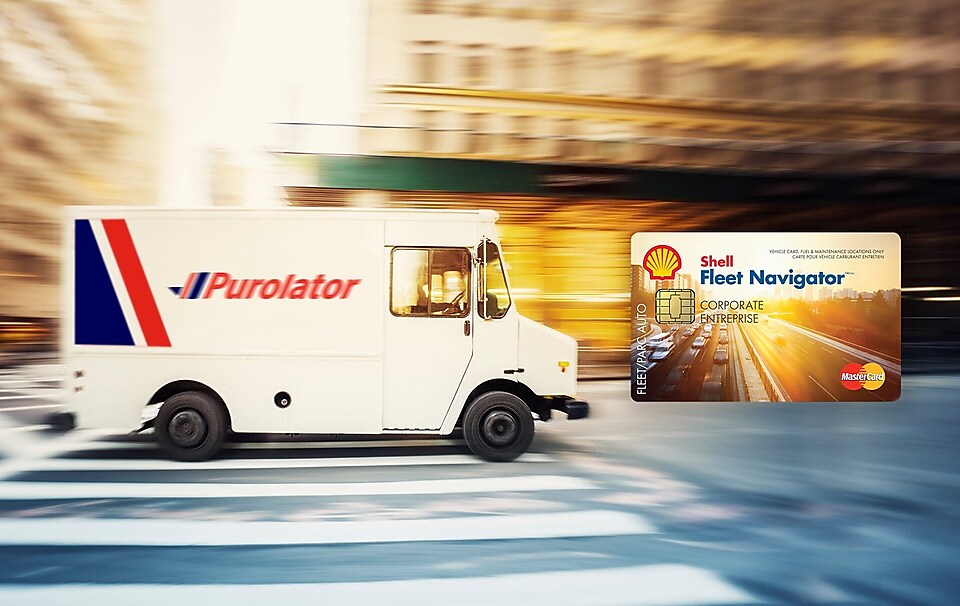 Calgary, Alberta – Shell Canada, a major player in the fuel and fleet space, today announced a multi-year agreement to provide Shell Fleet NavigatorTM Card services to Purolator, a leading integrated freight and parcel solutions provider in Canada. Further expanding the footprint of Shell fleet operations in Canada, Purolator has transitioned its fleet of 3,000 drivers across the country to the Shell Fleet NavigatorTM Card.
"As one of the most prominent freight, parcel and logistics solutions providers in the country, Purolator has a massive footprint and a complex fleet operation to match," said Josh Ferguson, National Sales Manager, Commercial Fleet, Shell Canada. "Through this relationship, we're excited to help further optimize their fleet operations by providing insights and unprecedented flexibility for their fleet drivers – and ultimately, the customers who've grown to depend on Purolator for over 50 years."
In addition to Shell's accessible fuel network, fleet managers at Purolator will have access to Shell's online card management tool, eTRACTM. The system not only provides key insights into driver spending, it allows managers to set card restrictions and access comprehensive reporting functions.
"Shell brings great experience in the fuel management space as well as a strong reputation for customer satisfaction," said Serge Viola, Director, Assets Management, Purolator. "We selected the Shell Fleet NavigatorTM Card based on Shell's package of value, reporting and customer service. We look forward to a collaborative partnership in the years ahead."
To learn more about the benefits of the Shell Fleet NavigatorTM Card, visit www.shell.ca/fleetnavigator.
About the Shell Fleet NavigatorTM Card
The Shell Fleet NavigatorTM Card is a highly flexible fuel credit card that can be used at any service station or maintenance location where MasterCard® is accepted. Bringing 50 years of fuel card experience and its expertise as the largest branded fuel retailer in the world, Shell has created a flexible and effective fuel card option for fleet managers in Canada. The Shell Fleet NavigatorTM Card allows fleet managers to customize their fuel network and set enhanced controls by the individual card or driver, providing them with greater control and insight into their fuel costs and the ability to identify additional savings.
About Royal Dutch Shell plc
Royal Dutch Shell plc is incorporated in England and Wales, has its headquarters in The Hague and is listed on the London, Amsterdam, and New York stock exchanges. Shell companies have operations in more than 90 countries and territories with businesses including oil and gas exploration and production; production and marketing of liquefied natural gas and gas to liquids; manufacturing, marketing and shipping of oil products and chemicals and renewable energy projects. For further information, visit www.shell.com.
About Shell Canada
Shell has been operating in Canada for over 100 years and employs over 8,000 people across the country. Our business is providing energy to Canadians and people around the world, and we are one of the few truly integrated oil and gas companies in Canada. This means we do everything from exploring for oil and gas, production, refining, the manufacturing process, and delivery to our customers at over 1,200 retail stations across Canada. Learn more at www.shell.ca.
About Purolator
Purolator Inc. is Canada's leading integrated freight, parcel and logistics solutions provider. Celebrating over 50 years of delivering its customers' promises, Purolator continues to expand its reach and renowned service levels and reliability to more people, more businesses and more places across the country and around the world. Purolator is proud of its Canadian heritage and is focused on sustainably positioning itself for future growth and success. Purolator is also committed to contributing to the well-being of the communities it serves and where more than 11,000 of its employees live, work and play.
INQUIRIES:
Shell Canada Media Relations (877) 850-5023
Maddie Handy Edelman, for Shell (403) 817-0621
Courtney Reistetter Corporate Communications Manager, Purolator  (905) 712-1084 ext. 23851          
Definitions and Cautionary Note
The companies in which Royal Dutch Shell plc directly and indirectly owns investments are separate entities. In this press release "Shell", "Shell group" and "Royal Dutch Shell" are sometimes used for convenience where references are made to Royal Dutch Shell plc and its subsidiaries in general. Likewise, the words "we", "us" and "our" are also used to refer to subsidiaries in general or to those who work for them. These expressions are also used where no useful purpose is served by identifying the particular company or companies. ''Subsidiaries'', "Shell subsidiaries" and "Shell companies" as used in this press release refer to companies over which Royal Dutch Shell plc either directly or indirectly has control. Companies over which Shell has joint control are generally referred to "joint ventures" and companies over which Shell has significant influence but neither control nor joint control are referred to as "associates". In this press release, joint ventures and associates may also be referred to as "equity-accounted investments". The term "Shell interest" is used for convenience to indicate the direct and/or indirect (for example, through our 23% shareholding in Woodside Petroleum Ltd.) ownership interest held by Shell in a venture, partnership or company, after exclusion of all third-party interest.
This press release contains forward-looking statements concerning the financial condition, results of operations and businesses of Royal Dutch Shell. All statements other than statements of historical fact are, or may be deemed to be, forward-looking statements. Forward-looking statements are statements of future expectations that are based on management's current expectations and assumptions and involve known and unknown risks and uncertainties that could cause actual results, performance or events to differ materially from those expressed or implied in these statements. Forward-looking statements include, among other things, statements concerning the potential exposure of Royal Dutch Shell to market risks and statements expressing management's expectations, beliefs, estimates, forecasts, projections and assumptions. These forward-looking statements are identified by their use of terms and phrases such as ''anticipate'', ''believe'', ''could'', ''estimate'', ''expect'', ''goals'', ''intend'', ''may'', ''objectives'', ''outlook'', ''plan'', ''probably'', ''project'', ''risks'', "schedule", ''seek'', ''should'', ''target'', ''will'' and similar terms and phrases. There are a number of factors that could affect the future operations of Royal Dutch Shell and could cause those results to differ materially from those expressed in the forward-looking statements included in this press release, including (without limitation): (a) price fluctuations in crude oil and natural gas; (b) changes in demand for Shell's products; (c) currency fluctuations; (d) drilling and production results; I reserves estimates; (f) loss of market share and industry competition; (g) environmental and physical risks; (h) risks associated with the identification of suitable potential acquisition properties and targets, and successful negotiation and completion of such transactions; (i) the risk of doing business in developing countries and countries subject to international sanctions; (j) legislative, fiscal and regulatory developments including regulatory measures addressing climate change; (k) economic and financial market conditions in various countries and regions; (l) political risks, including the risks of expropriation and renegotiation of the terms of contracts with governmental entities, delays or advancements in the approval of projects and delays in the reimbursement for shared costs; and (m) changes in trading conditions. All forward-looking statements contained in this press release are expressly qualified in their entirety by the cautionary statements contained or referred to in this section. Readers should not place undue reliance on forward-looking statements. Additional risk factors that may affect future results are contained in Royal Dutch Shell's 20-F for the year ended December 31, 2015 (available at www.shell.com/investor and www.sec.gov ). These risk factors also expressly qualify all forward looking statements contained in this press release and should be considered by the reader. Each forward-looking statement speaks only as of the date of this press release, November 14, 2016. Neither Royal Dutch Shell plc nor any of its subsidiaries undertake any obligation to publicly update or revise any forward-looking statement as a result of new information, future events or other information. In light of these risks, results could differ materially from those stated, implied or inferred from the forward-looking statements contained in this press release.
We may have used certain terms, such as resources, in this press release that United States Securities and Exchange Commission (SEC) strictly prohibits us from including in our filings with the SEC. U.S. Investors are urged to consider closely the disclosure in our Form 20-F, File No 1-32575, available on the SEC website www.sec.gov. You can also obtain these forms from the SEC by calling 1-800-SEC-0330.
More in Media
If you are a member of the media, we welcome inquiries related to Shell Canada's corporate activities. Click to access the submission form.
You may also like
The 2015 Annual Report and Form 20-F, the 2015 Sustainability Report and the Investors' Handbook are available on our global website for online reading and PDF downloads.