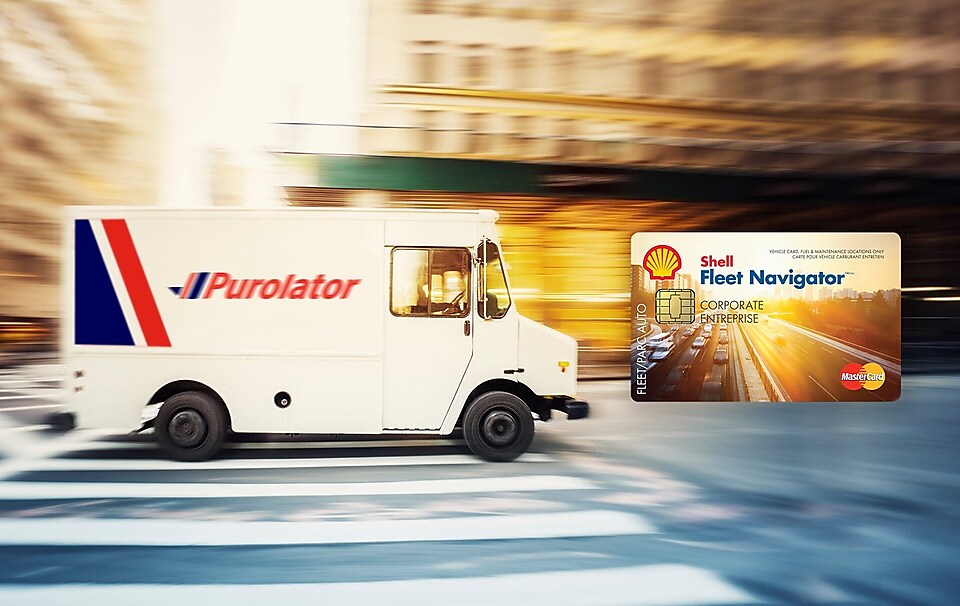 Calgary, Alberta – Shell Canada, a major player in the fuel and fleet space, today announced a multi-year agreement to provide Shell Fleet NavigatorTM Card services to Purolator, a leading integrated freight and parcel solutions provider in Canada. Further expanding the footprint of Shell fleet operations in Canada, Purolator has transitioned its fleet of 3,000 drivers across the country to the Shell Fleet NavigatorTM Card.
"As one of the most prominent freight, parcel and logistics solutions providers in the country, Purolator has a massive footprint and a complex fleet operation to match," said Josh Ferguson, National Sales Manager, Commercial Fleet, Shell Canada. "Through this relationship, we're excited to help further optimize their fleet operations by providing insights and unprecedented flexibility for their fleet drivers – and ultimately, the customers who've grown to depend on Purolator for over 50 years."
In addition to Shell's accessible fuel network, fleet managers at Purolator will have access to Shell's online card management tool, eTRACTM. The system not only provides key insights into driver spending, it allows managers to set card restrictions and access comprehensive reporting functions.
"Shell brings great experience in the fuel management space as well as a strong reputation for customer satisfaction," said Serge Viola, Director, Assets Management, Purolator. "We selected the Shell Fleet NavigatorTM Card based on Shell's package of value, reporting and customer service. We look forward to a collaborative partnership in the years ahead."
To learn more about the benefits of the Shell Fleet NavigatorTM Card, visit www.shell.ca/fleetnavigator.
About the Shell Fleet NavigatorTM Card
The Shell Fleet NavigatorTM Card is a highly flexible fuel credit card that can be used at any service station or maintenance location where MasterCard® is accepted. Bringing 50 years of fuel card experience and its expertise as the largest branded fuel retailer in the world, Shell has created a flexible and effective fuel card option for fleet managers in Canada. The Shell Fleet NavigatorTM Card allows fleet managers to customize their fuel network and set enhanced controls by the individual card or driver, providing them with greater control and insight into their fuel costs and the ability to identify additional savings.
About Royal Dutch Shell plc
Royal Dutch Shell plc is incorporated in England and Wales, has its headquarters in The Hague and is listed on the London, Amsterdam, and New York stock exchanges. Shell companies have operations in more than 90 countries and territories with businesses including oil and gas exploration and production; production and marketing of liquefied natural gas and gas to liquids; manufacturing, marketing and shipping of oil products and chemicals and renewable energy projects. For further information, visit www.shell.com.
About Shell Canada
Shell has been operating in Canada for over 100 years and employs over 8,000 people across the country. Our business is providing energy to Canadians and people around the world, and we are one of the few truly integrated oil and gas companies in Canada. This means we do everything from exploring for oil and gas, production, refining, the manufacturing process, and delivery to our customers at over 1,200 retail stations across Canada. Learn more at www.shell.ca.
About Purolator
Purolator Inc. is Canada's leading integrated freight, parcel and logistics solutions provider. Celebrating over 50 years of delivering its customers' promises, Purolator continues to expand its reach and renowned service levels and reliability to more people, more businesses and more places across the country and around the world. Purolator is proud of its Canadian heritage and is focused on sustainably positioning itself for future growth and success. Purolator is also committed to contributing to the well-being of the communities it serves and where more than 11,000 of its employees live, work and play.
INQUIRIES:
Shell Canada Media Relations (877) 850-5023
Maddie Handy Edelman, for Shell (403) 817-0621
Courtney Reistetter Corporate Communications Manager, Purolator  (905) 712-1084 ext. 23851