Over 100 student teams competed for top mileage efficieny in annual Shell Eco-Marathon event
May 01, 2017
At Make the Future Detroit Festival, Three Teams Also Earned a Trip to the Drivers' World Championship Grand Final in London.
Detroit, May 1, 2017 – Perennial winner Université Laval of Quebec earned top honors in their category at the 11th annual Shell Eco-marathon Americas competition, recording 2713.1 miles per gallon with its ultra-energy-efficient gasoline powered prototype vehicle. Among the 100 student teams, Duke University of Durham, Wheat Ridge High School, Mater Dei High School, and Saint Thomas Academy all prevailed in their respected fuel types and vehicle categories to sinch the top spots.
Overcast skies and cold weather didn't dampen the spirits of participants and visitors at the Make the Future Detroit Festival. The free festival brings together governments, businesses, entrepreneurs, students and local communities, to provide a platform for innovation, collaboration and conversation around global energy challenges. Besides the more than 1,200 student participants in the Shell Eco-marathon Americas contest, thousands of visitors packed the Cobo Center to enjoy numerous activities focused on the future of energy and mobility. Visitors included more than 10,000 Detroit Public Schools Community District students and local Boy Scouts.
Sixteen strategic global and local partners helped Shell stage the increasingly popular, awards-laden event, which expanded in scope this year to add new visitor elements. Partners included Hewlett Packard Enterprise, hp Inc., Linde, Southwest Research Institute, The City of Detroit, Team Penske, FCA US LLC, Altair, Delta Air Lines, Quicken Loans, Toyota, HITACHI, The Henry Ford, Michigan Economic Development Corporation (MEDC), Autoliv and Magna International.
At the Cobo Center, competitors worked diligently from Thursday until Sunday as they fine-tuned their custom-built vehicles. Students, representing Brazil, Canada, Colombia, Guatemala, Mexico, Peru, Puerto Rico and the United States, were required to pass strenuous technical inspections before testing their vehicles on an indoor practice track to ensure they were ready for the outdoor competition. In order to record a successful run, each team's car was required to make 10 laps for a total distance of six miles within 24 minutes around a closed circuit track along the Motor City's downtown streets.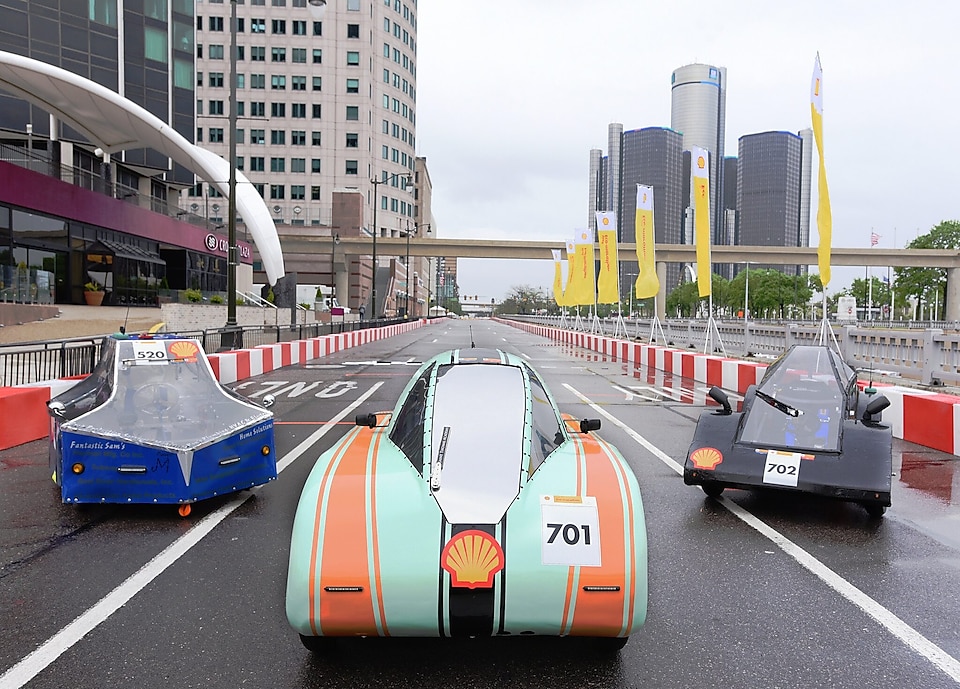 Driver's World Championship Regional Final
The top performing UrbanConcept Americas teams earned the right to compete in the Shell Drivers' World Championship Regional Final – a competition for the best UrbanConcept category teams to find out who is the fastest energy-efficient driver. The three regional winners will compete amongst winning teams from Asia and Europe, later this month in London, in the Drivers' World Championship Grand Final. Saint Thomas Academy was joined by Alden-Conger High School and Newburgh Free Academy rounding out the podium places in the Drivers' World Championship Regional Final in Detroit. They will now prepare to compete for the Drivers' World Championship Title and earn a once-in-a-lifetime experience at the home of Scuderia Ferrari.
Shell Eco-marathon General Manager Norman Koch noted, "Drivers' World Championship marries the incredible engineering we see year after year in the Shell Eco-marathon mileage challenge. Our first regional event in Singapore in March showed how passionate students are about this race for fuel efficiency and that continued in Detroit."
The Winning Teams
Student teams compete in two vehicle classes at the event. The Prototype class invites students to enter futuristic, streamlined vehicles, and the UrbanConcept class focuses on "roadworthy," fuel-efficient vehicles aimed at meeting the real-life needs of drivers. Entries are divided by into three energy categories:
Internal combustion: gasoline, diesel, liquid fuel made from natural gas (GTL), compressed natural gas (CNG), and ethanol
Hydrogen fuel cell
Battery electric
The Detroit winners in each class follow, based on vehicle class and energy category:
Prototype internal combustion: Alérion Supermileage team, Université Laval of Quebec, 2,713.1 mpg.
Prototype battery electric: Duke Electric Vehicles, Duke University of Durham, North Carolina, 295.7 mi/kWh.
Prototype hydrogen fuel cell: Wheat Ridge Tech, Wheat Ridge High School of Wheat Ridge, Colorado, 110.9 mi/kWh.
UrbanConcept internal combustion: Mater Dei Supermileage Team, Mater Dei High School of Indiana, 602.3 mpg.
UrbanConcept battery electric: Saint Thomas Academy Experimental Vehicle Team, Saint Thomas Academy of Minnesota, 50.4 mi/kWh.
Teams also won prizes for their work off-track, in the following categories:
Communications Award: Supermileage uOttawa, The University of Ottawa (Canada). The Supermileage uOttawa team invested a lot of time and effort to promote their team. In addition to leveraging traditional media and local events to connect with their community, the team shared social media content in both English and French to reach a wider audience. More impressively, they were able to identify their shortfalls and had already developed an improvement plan for next year's Shell Eco-marathon Americas.
Vehicle Design Award UrbanConcept: EcoCar – Turbo Hound, Louisiana Tech University (Louisiana). The team's UrbanConcept car was designed using a strong and lightweight monocoque design that had the fit and finish like many production cars on the road today. The vehicle features driver comfort and safety, and includes a luggage compartment. It was clear that the team had paid great attention to using eco-friendly materials, minimizing usage of carbon fiber and re-using scrap and wasted materials.
Vehicle Design Award Prototype: OSU Beavers, Oregon State University (Oregon). The team designed their prototype vehicle around their driver, accounting for available space, ease of exit and visibility, and overcame these challenges to design a very high performance vehicle. They had clear efficiency goals in mind and achieved significant improvements in weight, stiffness and overall performance over their previous vehicle. Additionally, their design did a great job of integrating aesthetics with high efficiency and the ability to operate on current road conditions while taking into consideration the impact of potholes and slopes.
Technical Innovation: Supermileage Systems Enterprise, Michigan Technological University (Michigan). The team followed a logical engineering process where they identified a clear objective and worked within design constraints to deliver a flexible electric motor driver.
Safety Award: Team Shop Girls, Granite Falls High School (Washington State). The team made it a priority to incorporate safety in both their vehicle design and the team's daily activities in the paddocks. Having a proactive safety mind-set placed them in an excellent position to continue to avoid hazards and reduce safety risks. In fact, the team displayed safety supplies out in the open with safety signs in sight, and they made judges put on safety glasses before entering their paddock.
Perseverance and Spirit of the Event Award: MC3 Engineering, Montgomery Community College (Pennsylvania). Despite their vehicle breaking down and working endless hours to fix it, the team stayed positive and found time to interact with other teams, both offering help and asking for support. The team also brought on-board a new driver with limited knowledge on short notice who offered new insights to improve the process.
Female Talent on the Rise
Shell Eco-marathon Americas continues to draw a growing number of female participants and team leaders among both high school and university teams. This year, more than 50 female drivers competed with 40 reserve drivers, and 16 team captains were female. Recognized female teams included:
Granite Falls, Shopgirls Team – Heather Holmes: Prototype/Diesel team leader
Granite Falls – Kelsey Green: UrbanConcept/Diesel team leader
University of Michigan, Ann Arbor – Ishi Keenum: Prototype/Battery Electric team leader. Thirty percent of the team are females and hold leadership positions
James B. Dudley High School – Joanna Ziegler: UrbanConcept/GTL team leader
"I am proud to see these young women break barriers and showcase their leadership skills beyond the competition," said Lori Harvey, manager, STEM educational outreach and CSR programs, Hitachi. "I was pleased to learn during my time at the event that many of them serve as mentors and role models for younger girls in their communities, and this is exactly what will set us on the path to inspiring more female engineering talent."
Once Mater Dei High School senior Grace Cox graduates next month, she will head to Toyota Indiana for the summer to participate in a co-op program designed to develop skills for full-time engineering students at four-year colleges or universities. The program will allow her to receive paid practical hands-on experience working alongside Toyota engineers, as well as mentorship opportunities.
Stories of Perseverance
First-timers from the University of California, Sacramento hauled their vehicle on a trailer and drove from Sacramento to Detroit for 36 hours straight, arriving Wednesday night. To raise funds, the team received $5,600 from a Go Fund Me account, $2,000 from the university, and team members contributed a combined $7,500.
The University of Toronto team, which traditionally rivals the reigning champion Universitie Laval, faced difficulties crossing the U.S./Canadian border where it took them 2.5 hours to cross. The team arrived late Friday – right before the first day of competition – and had to pass technical inspection before driving their vehicle late Saturday evening.
A Look Ahead at 2018:
In 2018, Shell Eco-marathon Americas will head back to California where the Americas event first started back in 2007, when less than 20 teams registered to compete on the inside track of a Speedway.
To learn more, please visit here. 
MEDIA ENQUIRIES
Shell US Media Line: +1 (713) 241-4544 
Notes to editors:
Shell Eco-marathon is a unique, global competition that challenges students to push the boundaries of energy efficiency on the road. There are three Shell Eco-marathon competitions held throughout the year in Asia, America and Europe. The competition provides an arena for students to test vehicles they design and build themselves. It aims to inspire young people to become scientists and engineers of the future.
The 2017 Shell Eco-marathon dates are: Today, Shell Eco-marathon competitions are held annually at Make the Future events in Asia, Americas and Europe.
Singapore, March 16-19
Americas Detroit, MI, USA, April 27-30
Europe London, United Kingdom, May 25-28
About Shell Oil Company
Shell Oil Company is an affiliate of the Royal Dutch Shell plc, a global group of energy and petrochemical companies with operations in more than 70 countries. In the U.S., Shell operates in 50 states and employs more than 20,000 people working to help tackle the challenges of the new energy future. Shell Oil Company is a leading oil and gas producer in the deepwater Gulf of Mexico, a recognized pioneer in oil and gas exploration and production technology and one of America's leading oil and natural gas producers, gasoline and natural gas marketers and petrochemical manufacturers.
Cautionary Note
The companies in which Royal Dutch Shell plc directly and indirectly owns investments are separate legal entities. In this announcement "Shell", "Shell group" and "Royal Dutch Shell" are sometimes used for convenience where references are made to Royal Dutch Shell plc and its subsidiaries in general. Likewise, the words "we", "us" and "our" are also used to refer to subsidiaries in general or to those who work for them. These expressions are also used where no useful purpose is served by identifying the particular company or companies. ''Subsidiaries'', "Shell subsidiaries" and "Shell companies" as used in this announcement refer to companies over which Royal Dutch Shell plc  either directly or indirectly has control. Entities and unincorporated arrangements over which Shell has joint control are generally referred to "joint ventures" and "joint operations" respectively.  Entities over which Shell has significant influence but neither control nor joint control are referred to as "associates". The term "Shell interest" is used for convenience to indicate the direct and/or indirect ownership interest held by Shell in a venture, partnership or company, after exclusion of all third-party interest.
This announcement contains forward-looking statements concerning the financial condition, results of operations and businesses of Royal Dutch Shell. All statements other than statements of historical fact are, or may be deemed to be, forward-looking statements. Forward-looking statements are statements of future expectations that are based on management's current expectations and assumptions and involve known and unknown risks and uncertainties that could cause actual results, performance or events to differ materially from those expressed or implied in these statements. Forward-looking statements include, among other things, statements concerning the potential exposure of Royal Dutch Shell to market risks and statements expressing management's expectations, beliefs, estimates, forecasts, projections and assumptions. These forward-looking statements are identified by their use of terms and phrases such as ''anticipate'', ''believe'', ''could'', ''estimate'', ''expect'', ''goals'', ''intend'', ''may'', ''objectives'', ''outlook'', ''plan'', ''probably'', ''project'', ''risks'', "schedule", ''seek'', ''should'', ''target'', ''will'' and similar terms and phrases. There are a number of factors that could affect the future operations of Royal Dutch Shell and could cause those results to differ materially from those expressed in the forward-looking statements included in this announcement, including (without limitation): (a) price fluctuations in crude oil and natural gas; (b) changes in demand for Shell's products; (c) currency fluctuations; (d) drilling and production results; (e) reserves estimates; (f) loss of market share and industry competition; (g) environmental and physical risks; (h) risks associated with the identification of suitable potential acquisition properties and targets, and successful negotiation and completion of such transactions; (i) the risk of doing business in developing countries and countries subject to international sanctions; (j) legislative, fiscal and regulatory developments including regulatory measures addressing climate change; (k) economic and financial market conditions in various countries and regions; (l) political risks, including the risks of expropriation and renegotiation of the terms of contracts with governmental entities, delays or advancements in the approval of projects and delays in the reimbursement for shared costs; and (m) changes in trading conditions. All forward-looking statements contained in this announcement are expressly qualified in their entirety by the cautionary statements contained or referred to in this section. Readers should not place undue reliance on forward-looking statements. Additional risk factors that may affect future results are contained in Royal Dutch Shell's 20-F for the year ended December 31, 2015 (available at www.shell.com/investor and www.sec.gov). These risk factors also expressly qualify all forward looking statements contained in this announcement and should be considered by the reader.  Each forward-looking statement speaks only as of the date of this announcement, 5/1/17. Neither Royal Dutch Shell plc nor any of its subsidiaries undertake any obligation to publicly update or revise any forward-looking statement as a result of new information, future events or other information. In light of these risks, results could differ materially from those stated, implied or inferred from the forward-looking statements contained in this announcement
We may have used certain terms, such as resources, in this announcement that United States Securities and Exchange Commission (SEC) strictly prohibits us from including in our filings with the SEC.  U.S. Investors are urged to consider closely the disclosure in our Form 20-F, File No 1-32575, available on the SEC website www.sec.gov. 
More in Media
Keep up to date with developments at Shell via email alerts, Twitter or other social media.