Shell LubeChat
Shell LubeChat is Shell's lubrication expert, a virtual assistant available anywhere, anytime.
LubeChat is the channel for Shell product and service information, sales and technical expertise. Search for technical and safety data sheets, product specs, find out where to buy, or be routed to the correct sales or technical expert.
Answers on Demand
LubeChat brings you a vast array of Shell knowledge, equipping you to make faster, better-informed decisions that can ultimately help bring down your total cost of ownership.
It's easy-to-use
It works on your smartphone and your computer
It's available 24/7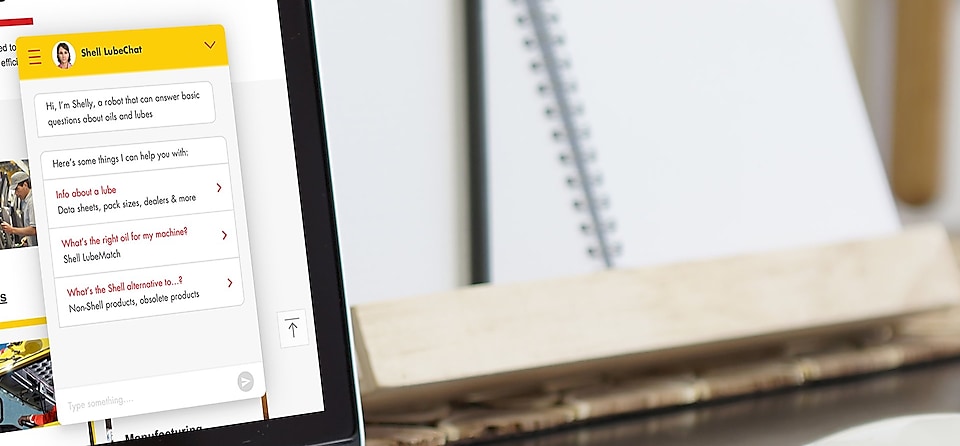 Key features
Find product information, including technical and safety sheets, pack sizes and where to buy
Get recommended Shell alternatives to competing products currently used
Find the right oil for a machine or vehicle, filtering by machinery, manufacturer and year
Access case studies demonstrating how existing customers have improved their operations
Shortcuts
There are other questions and shortcuts that LubeChat can answer. Here's a list of them:
Family name of oil for an application
Show me oils for an application
Try LubeChat now
Click on the LubeChat yellow tab at the bottom right of your screen.
More in Lubricants for business
Discover how using the right lubricant can bring you substantial savings by helping maximise equipment efficiency, prolong vehicle life and reduce downtime.